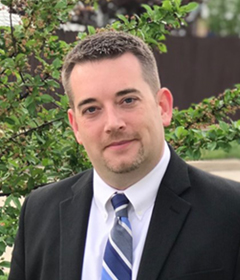 Sheriff Candidate
Questions & Answers
For the November 2018 Election
What is the importance of County Sheriff to residents in Champaign County?
The Sheriff is responsible for law enforcement, the county jail and courthouse security, all of which serve the purpose of keeping the community safe and functional. More than that, though, as the elected representative for law enforcement and corrections in the county, the Sheriff represents all residents of Champaign County and should be an advocate for equality and diversity throughout the criminal justice system. Moreover, the Sheriff should serve as the facilitator for criminal justice change – bringing together other law enforcement agencies and community organizations to make Champaign a stronger and safer county for all of us.
Why are you qualified to be the County Sheriff?
Diversity, education and experience.

I bring to the citizens of Champaign County diverse cultural perspectives, especially within the LGBTQ and Latino communities. Though I currently live in Champaign, I was raised in a rural area and understand the needs of residents who live outside the cities of Champaign and Urbana, too.

I have over 19 years of experience in the criminal justice field, which includes 911 telecommunications, investigations, patrol, being a Chief of Police and leading a college criminal justice program for future criminal justice professionals. I have acquired skills in writing and oversight of federal grants for training and equipment, emergency planning and preparedness, oversight of personnel & public facilities, review and development of law enforcement policies and procedures and strategic planning. I have also served in leadership for a union of approximately 130 members, including contract negotiations.

I bring a combination of education and experience. I have experience being a police officer, including as a deputy sheriff for the Champaign County Sheriff's Office, but also have a master's degree in criminology. My master's degree will allow me to better analyze why crime is occurring in order to help deter and prevent future crime.
What is a key policy difference between you and your Opponent?
Three key policy differences between me and my opponent include:

1. Nonviolent offenders who do not pose a risk to society need alternatives to incarceration. It is in our best interest to provide them access to resources in the community so they can get the help they need, not sit in a jail cell wasting taxpayer money. Many offenders can be held accountable for their actions while in the community, which gives them access to employment opportunities and a positive support system.

2. Employees should be part of the decision-making process and promotions should be based on skills and experience. Morale at the sheriff's office is very low, at least in part because of a lack of collaboration between administration and employees. As Sheriff I will include those who are affected by decisions in the decision-making process.

3. Training needs to be a priority. There have been several officer-involved shootings in Champaign County over the last few years, but firearms proficiency training has decreased at the sheriff's office. As Sheriff, I will ensure that employees get the training needed to be proficient with the tools they are required to carry, and potentially use, every day. This will include training on how to maximize communication to de-escalate situations.
Is there anything else you would like to say to an undecided voter in Champaign County?
I know what it is like to be defined by a single characteristic of my life instead of all of the characteristics that make me who I am. This helps me to understand how important equality is in the criminal justice system and I look forward to being an advocate for equality and diversity. We have a lot of diversity in Champaign County, and that diversity can only be fully represented with a diverse Sheriff.

Though the current Sheriff is retiring, the Republican candidate has been in the position to make high-level decisions at the sheriff's office for years. However, the county continues to get sued for millions of dollars for wrongful deaths in the jail, training for officers has diminished and morale at the sheriff's office is to a point where officers are looking for new jobs. It is my hope that the voters of Champaign County recognize the need for a change in leadership.
Here is a list of links featuring more information on each candidate for this seat:
Tweet