Press Release
Publish Date: 02-03-2020
Register, Research, VOTE!
Announcing: VoteChampaign's complete candidate information guide for the upcoming Illinois 2020 Primary Election is available NOW, February 3rd through March 17th, at VoteChampaign.org. 
This candidate guide covers every contested race in Champaign County, from US Senate to US Congress to County Board. The guide features details and questionnaires from all the candidates, including the often under-reported yet vitally important Circuit Judge & Circuit Clerk races. In addition to questions & answers, the guide provides links to additional research material for that race, such as Candidate Forum Videos or newspaper interviews that feature each candidate. 
Both local voters and local Get Out The Vote volunteers have found VoteChampaign.org to be a great resource. Ming Kuo, Champaign resident, had this to say "This guide is a terrific one-stop shopping place for voting — convenient, clear, and fair. It gives me what I need to know to vote confidently."
On the front page, we highlight a variety of links to easily check your current voter registration status, to update your voter registration, to check your sample ballot, to partake in early voting, or to find your polling location.
Each election is important, but the IL-15, IL-13, and Circuit Judge races can have potentially long term impacts for residents of Champaign County. In addition, your vote has the most power in state & local-level election, as we have seen with the recent 2018 Macon County Sheriff Election which was decided by just 1 vote. This is why it is important to get informed on who is running so that you can make an educated choice on which candidate you want to vote for. 
The VoteChampaign.org candidate information guide was made in partnership with the local League of Women Voters of Champaign County. As such, this guide is strictly non-partisan, it covers both Republican & Democratic candidates, and it makes no endorsements. We simply provide a convenient one-stop spot to Register, Research, & VOTE In the upcoming March 17th Illinois Primary Election. Early voting opens Feb 6th.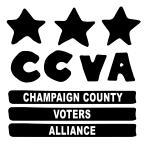 Information about the people behind VoteChampaign.org: It was co-founded almost 3 years ago by a group of local activists looking for a better way to increase voter turnout in Champaign County. We started a collaborative working group called the Champaign County Voters Alliance (or CCVA) which focused on creative ways to engage local voters. From the beginning we have strived to be non-partisan and include discussions & feedback from all types of political backgrounds. James Manrique is the current Chair of the Champaign County Voters Alliance, an active board member for the League of Women Voters of Champaign County, and does the continued maintenance on VoteChampaign.org.
For further questions or comments, contact:
James Manrique, 217-840-9171, james.manrique@gmail.com
Contact us by clicking one of these